Con más de 15 años operando cruceros de lujo en las Islas Galápagos, Celebrity ha aprendido mucho sobre cómo ofrecer vacaciones galardonadas en este rincón único del mundo. Celebrity entiende que, si bien los viajeros del mundo comparten la pasión por el descubrimiento, hay todo tipo de exploradores. Todos los espacios, incluidos los alojamientos de suites, cuentan con el innovador concepto orientado hacia el exterior de Celebrity, por lo que el destino es el centro de atención en todo momento.
CELEBRITY TODO INCLUIDO COMODIDADES:
Todas las comidas incluidas
Bebidas Incluidas
Propinas incluidas
Asistentes personales de la suite
Mochila de cortesía
Prismáticos marinos
Chocolates de cobertura de origen local
Minibar surtido con refrescos y cervezas favoritos
Amenidades de baño orgánicas y de origen local
Configuración de champán / vino espumoso
Entrega de deliciosos diarios en la suite por la tarde
Ponchos de lluvia de cortesía
Protector solar, gel refrescante de aloe vera y bálsamo labial de cortesía
Uso gratuito de gafas de sol y gafas de lectura.
Servicio de lavandería de cortesía dos veces por crucero
Servicio de habitaciones en suite las 24 horas
Celebrity – Cruceros de expedición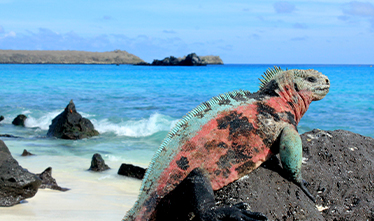 Celebrity - Galapagos
With more than 15 years operating luxury cruises in the Galapagos Islands, Celebrity has learned a lot about delivering award-winning vacations in this unique corner of the world. Celebrity understands that while world-travelers share a passion for discovery, there are all sorts of explorers. Every space, including the all-suites accommodations, features Celebrityís innovative outward-facing concept, so the destination is the center of attention at every turn.
DESCUBRE LA EXPERIENCIA CELEBRITY CRUISES EXPEDITION
Términos y condiciones
La tarifa del crucero incluye todos los servicios e instalaciones normales a bordo, además de todas las comidas, todas las bebidas no alcohólicas, vinos selectos, cervezas durante el almuerzo y la cena y excursiones en tierra. La tarifa del crucero no incluye cargos por puerto de cruceros, seguridad, navegación, atraque, estiba y manejo / almacenamiento de equipaje, recargos por combustible, tarifas o cargos impuestos por autoridades gubernamentales o cuasi gubernamentales, visitas turísticas o comidas en tierra, impuestos, propinas, tarifas de visa , servicio de lavandería o valet, o cualquier artículo o servicio de naturaleza personal, como cualquier servicio de masaje o salón que se pueda proporcionar a bordo y por el cual se puedan imponer cargos por separado. Los traslados entre el aeropuerto y el barco el día de embarque y desembarque no están incluidos.