AN ULTRA-LUXURY EXPEDITION SHIP Purpose-built expedition ships, PC6 ice-strengthened hull, with advanced manoeuvring technology for superior stability, safety and comfort.
You will experience nature's seasonal extravagance in the northern and southern polar regions. Cruise in Zodiacs under teeming bird cliffs and along jungle rivers. Kayak among stately icebergs and tropical coral islands. Visit Viking ruins, ancient Inca sites and indigenous Amazon villages. View whales, walrus and seals up close, and cruise in submarines past vivid reef walls and towering, underwater ice-cliffs.
SEABOURN ALL INCLUSIVE AMENITIES:
All Meals
Complimentary premium spirits and fine wines 24/7
Gratuities Included
Complimentary in-suite bar stocked with your preferences
Spa & Fitness center
WiFi available*
Onboard Expedition Team that features world-renowned scientists, historians, and naturalists
Swarovski binoculars in every suite
24 Zodiacs for landings and scenic cruising in remote destinations
An offering of double sea kayaks* for exploring shorelines and shallow waters (optional)
Mountain bikes and e-bikes for exploration ashore
Scuba and snorkeling gear for warm-water destinations
Two custom-built 6-person submarines* enabling deeper underwater exploration (optional)
Complimentary Seabourn expedition-grade parka and day-pack
Polar Sailing will supply insulated Bogs® Winter Boots
*In many destinations, the expedition team may also offer optional experiences involving the kayaks or the six-person submarines, which are available for an additional charge.
*Offers different internet packages for purchase onboard their ships. Seabourn charges 40 cents per minute for internet usage. Additionally, the cruise line offers some usage packages, which can be purchased onboard or in advance. Packages cost $19.95 for two hours, $29.95 for three hours, $39.95 for four hours, $239.95 for seven days with unlimited use and $399.95 for unlimited access during a longer cruise. Only one device at a time is supported.
Seabourn – Expedition Cruises
SEABOURN EXPEDITION CRUISE DESTINATIONS
Seabourn's guests have come to expect for over 30 years, the ship will offer unforgettable expeditions to some of the world's most remote, awe-inspiring locales. Explore places few people will ever see — in a style you've never imagined.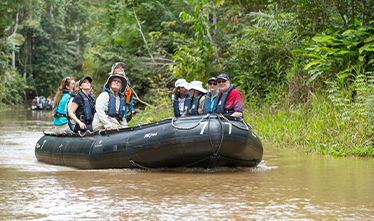 Seabourn Expeditions - Amazon
The small channel of Boca dos Botos is home to a flooded forest and all its attendant challenges to the human and wildlife inhabitants of the region. Traveling by zodiac with the Expedition Team, you will learn how the rise and fall of the river relates to the rise and fall of fortunes. Watch for evidence of how the local people deal with their sometimes-inhospitable environment. Also possible are wildlife encounters -- sloths, howler monkeys, birds and squirrel monkeys congregate here.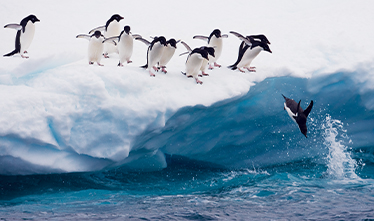 Seabourn Expeditions - Antarctica
Mere words cannot describe its majesty, and even the most striking photos fall short of conveying the immense scale and otherworldly beauty of this remote destination. Seabourn goes to Antarctica in a style undreamed by those ardent early pioneers. But what awaits us there – the snowy, sentinel mountain ranges, teeming penguin colonies and stately parades of monumental icebergs; the sight of an albatross eff ortlessly gliding across an ink-blue sea and the unexpected rainbow of mist arising from a breaching whale – all of that is virtually unchanged from the time before its discovery.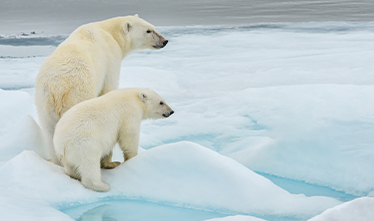 Seabourn Expeditions - Arctic
Taking in views of rugged mountains, ice-blue glaciers, and lush greenery is one of the most sought-after activities for expedition travelers. Experience nature's seasonal extravagance in the outer British Isles, Norway, Svalbard, Iceland, Greenland, and the Canadian Arctic. Cruise in Zodiacs under teeming bird cliffs and kayak among tall, stately icebergs under the Midnight Sun. Visit Viking ruins and ancient Inuit sites. View whales, walrus and seals up close, as reindeer and musk oxen graze on tundra meadows blanketed in wildflowers. Explore Svalbard's breathtaking fjords, immense Icelandic waterfalls, the grandeur of Greenland's glaciers and polar bear-haunted beaches in remote Baffin Bay and Nunavut.
DISCOVER THE SEABOURN EXPEDITIONS EXPERIENCE
Terms and Conditions
Cruise fare includes all normal shipboard services and facilities plus, all meals, all nonalcoholic beverages, select wines, beers, during lunch and dinner and shore excursions. The cruise fare does not include cruise port, security, navigation, berthing, stevedoring, and baggage handling/storage charges, fuel surcharges, fees or charges imposed by governmental or quasi-governmental authorities, sightseeing or meals ashore, taxes, gratuities, visa fees, laundry or valet service, or any item or service whatsoever of a personal nature, such as any massage or salon services which may be provided onboard and for which separate charges may be imposed. Transfers between the airport and ship on the day of embarkation and disembarkation are not included.