UN BARCO DE EXPEDICIÓN DE ULTRA LUJO Buques de expedición especialmente diseñados, casco PC6 reforzado con hielo, con tecnología de maniobra avanzada para una estabilidad, seguridad y comodidad superiores.
Experimentarás la extravagancia estacional de la naturaleza en las regiones polares norte y sur. Navegue en Zodiacs bajo los abarrotados acantilados de aves y a lo largo de los ríos de la jungla. Navegue en kayak entre majestuosos icebergs e islas de coral tropicales. Visite ruinas vikingas, antiguos sitios incas y pueblos indígenas del Amazonas. Observa de cerca ballenas, morsas y focas, y navega en submarinos pasando por vívidas paredes de arrecifes e imponentes acantilados de hielo submarinos.
SERVICIOS TODO INCLUIDO DE SEABOURN:
Todas las comidas
Licores premium y vinos finos de cortesía las 24 horas, los 7 días de la semana
Propinas incluidas
Bar de cortesía en la suite abastecido con sus preferencias
Spa y gimnasio
WiFi disponible *
Equipo de expedición a bordo que cuenta con científicos, historiadores y naturalistas de renombre mundial
Prismáticos Swarovski en cada suite
24 Zodiacs para aterrizajes y cruceros escénicos en destinos remotos
Una oferta de kayaks de mar dobles * para explorar costas y aguas poco profundas (opcional)
Bicicletas de montaña y bicicletas eléctricas para explorar en tierra
Equipo de buceo y esnórquel para destinos de aguas cálidas.
Dos submarinos personalizados para 6 personas * que permiten una exploración submarina más profunda (opcional)
Paquete de día y parka de expedición Seabourn de cortesía
Polar Sailing suministrará botas de invierno Bogs® con aislamiento
* En muchos destinos, el equipo de expedición también puede ofrecer experiencias opcionales con kayaks o submarinos para seis personas, que están disponibles por un cargo adicional.
* Ofrece diferentes paquetes de Internet para comprar a bordo de sus barcos. Seabourn cobra 40 centavos por minuto por el uso de Internet. Además, la línea de cruceros ofrece algunos paquetes de uso, que se pueden comprar a bordo o por adelantado. Los paquetes cuestan $ 19.95 por dos horas, $ 29.95 por tres horas, $ 39.95 por cuatro horas, $ 239.95 por siete días con uso ilimitado y $ 399.95 por acceso ilimitado durante un crucero más largo. Solo se admite un dispositivo a la vez.
Seabourn – Cruceros de expedición
DESTINOS DEL CRUCERO DE EXPEDICIÓN DE SEABOURN
Los huéspedes de Seabourn han esperado durante más de 30 años que el barco ofrecerá expediciones inolvidables a algunos de los lugares más remotos e impresionantes del mundo. Explore lugares que pocas personas verán jamás, con un estilo que nunca imaginó.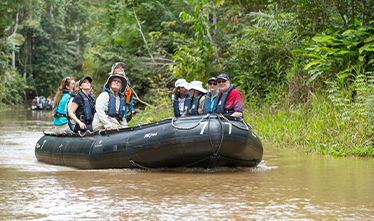 Seabourn Expeditions - Amazon
The small channel of Boca dos Botos is home to a flooded forest and all its attendant challenges to the human and wildlife inhabitants of the region. Traveling by zodiac with the Expedition Team, you will learn how the rise and fall of the river relates to the rise and fall of fortunes. Watch for evidence of how the local people deal with their sometimes-inhospitable environment. Also possible are wildlife encounters -- sloths, howler monkeys, birds and squirrel monkeys congregate here.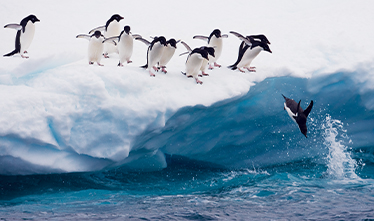 Seabourn Expeditions - Antarctica
Mere words cannot describe its majesty, and even the most striking photos fall short of conveying the immense scale and otherworldly beauty of this remote destination. Seabourn goes to Antarctica in a style undreamed by those ardent early pioneers. But what awaits us there – the snowy, sentinel mountain ranges, teeming penguin colonies and stately parades of monumental icebergs; the sight of an albatross eff ortlessly gliding across an ink-blue sea and the unexpected rainbow of mist arising from a breaching whale – all of that is virtually unchanged from the time before its discovery.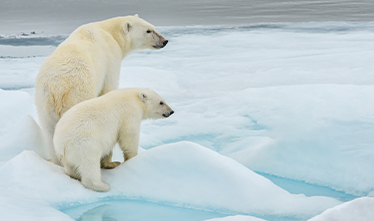 Seabourn Expeditions - Arctic
Taking in views of rugged mountains, ice-blue glaciers, and lush greenery is one of the most sought-after activities for expedition travelers. Experience nature's seasonal extravagance in the outer British Isles, Norway, Svalbard, Iceland, Greenland, and the Canadian Arctic. Cruise in Zodiacs under teeming bird cliffs and kayak among tall, stately icebergs under the Midnight Sun. Visit Viking ruins and ancient Inuit sites. View whales, walrus and seals up close, as reindeer and musk oxen graze on tundra meadows blanketed in wildflowers. Explore Svalbard's breathtaking fjords, immense Icelandic waterfalls, the grandeur of Greenland's glaciers and polar bear-haunted beaches in remote Baffin Bay and Nunavut.
DESCUBRE LA EXPERIENCIA SEABOURN EXPEDITIONS
Términos y condiciones
La tarifa del crucero incluye todos los servicios e instalaciones normales a bordo, además de todas las comidas, todas las bebidas no alcohólicas, vinos selectos, cervezas durante el almuerzo y la cena y excursiones en tierra. La tarifa del crucero no incluye cargos por puerto de cruceros, seguridad, navegación, atraque, estiba y manejo / almacenamiento de equipaje, recargos por combustible, tarifas o cargos impuestos por autoridades gubernamentales o cuasi gubernamentales, visitas turísticas o comidas en tierra, impuestos, propinas, tarifas de visa , servicio de lavandería o valet, o cualquier artículo o servicio de naturaleza personal, como cualquier servicio de masaje o salón que se pueda proporcionar a bordo y por el cual se puedan imponer cargos por separado. Los traslados entre el aeropuerto y el barco el día de embarque y desembarque no están incluidos.